It's quite impressive that some Free Video Editing Software available out there are so good and have been starred as Hollywood standard video editor by many reviews. In fact many people perhaps don't even know that these free tools have been used to produce many famous Hollywood movies that you may think of it. For that reason, we managed to look around among the Best Free Video Editing Software Without Watermark For PC and we listed here 9 of them.
The best according to us most importantly, consist of premium quality and feature rich tools of a video editor. It must be no watermarked, no video time limit and most important thing, free to be use & to publish as well. Extra advantages, such as Ultra HD or UHD or 4K video quality supports, etc, consider bonus.
Table of Contents
1.  Lightworks – Free Video Editing Software
Lightworks is a professional level free video editing software we can say. With many interesting premium features available in the free version. Did you know that this tool has been used for editing popular Hollywood movies like The Wolf of Wall Street, Pulp Fiction, Mission Impossible and many more. EditShare, the developer of this intuitive software claimed that Lightworks offers this Free license version with all the tools available, but the only restriction is on output formats.
"By far the most powerful free video editor around, Lightworks democratizes filmmaking by putting premium tools within reach of everyone" – TechRadar
✔️

Pro:

Length: No limit
No Watermark, No Ads
Almost all the pro tools in this free app
Online support: Forum community

❌

Con:

Output: Youtube & Vimeo at 720p only
The interface might not be user friendly
Recommended PC requirement could be too high

For:      
---
2.  VSDC Free Video Editor
VSDC has been listed among first rank in the list of best free video editor for PC in many review sites. The easy to use VSDC interface is capable to assist beginners. Such as marketing professionals in creating product demos and how to use videos to improve the knowledge base of their audience. No watermark on edited videos and the quality of edited videos are quite impressive. This software supports a wide range of file formats. So that users can create free tutorials and post them on different websites online. Above all, it's recommended for beginner.
✔️

Pro:

Length: No limit
No Watermark, No Ads
4K UHD support
Built-in Screen Recorder, Chroma key for Green screen, Color twist, Time lapse
Simple & easy to use interface
Online support: Website

❌

Con:

No advance setting
No hardware acceleration
Windows' users only

For:  
3.  DaVinci Resolve – Free Video Editing Software
DaVinci Resolve at first sounds like it got nothing to do with video editing. However this bizarre yet catchy name is a professional level free video editing software. With award-winning image processing technology, DaVinci Resolve provides editing module, color correction, audio effects & visual effects all in one app. The developer claimed that DaVinci Resolve (latest to date is version 16), as an innovative tools as a free video editor. It have the revolutionary new cut page, visual effects, motion graphics, fusion 3D, color correction and audio post production, all in a single application.
✔️

Pro:

Length: No limit
No Watermark, No Ads
4K UHD support
All the tools for professional video editing in one.. except most of the FX
Online support: Comprehensive Training on website – videos, ebooks & real books

❌

Con:

Not for amateur or beginner
Many intuitive effects are for paid version

For:      

Read also 13 Free Screen Recording Softwares
4.  Blender – Video Editor
Blender was known as an open source and definitely free 3D creation software. Built for 3D modelling, animation, simulation, rendering, compositing, motion tracking and even for game creation. Besides all of those state-of-the-art creation tools, Blender also comes with a built-in video editor. This video sequence editor, as they call it, will allows you to perform basic video editing, as well as more complex tasks like video masking or color grading.
✔️

Pro:

Length: No limit
No Watermark, No Ads
4K UHD support
Live preview, Luma Waveform, Chroma Vectorscope, Audio Mixing & Waveform Visualization, Speed control, Adjustment layers, Transitions, Keyframes, Filters
32 Slots available for adding Video clips, Audio clips, Images, Effects (you can produce some incredibly complex video)
Full install or Portable supported (easy mobile)
Online support: Documentation, Tutorials, Community Forum, Professional support for Developer & Certified Trainer

❌

Con:

It's more on 3D modeling & animation creation suite
The interface are too technical for beginners
Require Graphics Card with 1 GB RAM & OpenGL as minimum spec, in other words, not for low or medium spec PC

For:      
---
5.  Shotcut
Shotcut is an open source free video editor, so for open source apps lover, here is one of your choice for free video editing. Shotcut offers impressively wide range of file formats. It offers awesome video & audio effects and variable frame rates. Even though this is an open source video editor, many reviews admits that it has less negative side. In other words, a must try for beginner.
"It is very close to professional video editing programs like VEGAS Pro or the easiest video editor in the world, Filmora Video Editor" – Elearning Supporter
✔️

Pro:

Length: No limit
No Watermark, No Ads
4K UHD support
Chroma key for Green screen, 3D Text, Color correction, Invert color, Transition effects, Blur effect, Overlay
Wide range of format supported
Online support: Video tutorials & forum

❌

Con:
For:      
---
6.  OpenShot Video Editor
As the name given, OpenShot is an another great open source free video editor software for beginners level we can say. When it's from open source development, means you can expect freedom of use, no limitation and good support from the community. But it doesn't mean it is the best option though. OpenShot offers an easy to use and quick to learn video editor, perfect for beginners and amateur video producer.
✔️

Pro:

Length: No limit
No Watermark, No Ads
4K UHD support
Key Frame Animation, Desktop integration Drag & Drop, Unlimited Tracks / Layers, 3D Animated Titles, Audio mixing
User friendly Interface
Online support: Website & Reddit OpenShot forum

❌

Con:

Open source software needs patience to get support or update of bugs issue
Many users complaint about lags when applying effects and even worse for some users when it tend to crash

For:      
---
7.  HitFilm Express
HitFilm Express is the free version of HitFilm Pro. As the name given, the developer, FXhome claimed that HitFilm Express is the most powerful free video editing & VFX software in the world. If you're really serious into video making, this free video editor is a must try for you to make your first step towards becoming a pro film maker. For instance, if you're a film making student, this app is perfect for you before you fully jump in the film industry. Then when you become a professional film maker, the advance – paid version is still at affordable price.
✔️

Pro:

Length: No limit
No Watermark, No Ads
4K UHD support (need 2GB video memory)
2D Tracking, 3D & 360° Support (but add-ons required to buy), 400+ Effects & Presets
Online support: Website support, tutorial & forum

❌

Con:

You'll need high-end machine
Even though your system may support to run this software but slow loading for importing & exporting process may occur
Most of the extra features are lock as paid add-ons

For:    
---
8.  VideoPad
VideoPad received many good reviews and we agree that it is one of the great free video editor available. VideoPad consist of feature packed editing tools with variety of video formats supported. It's not just lets you import directly from your camcorder, in fact it has the ability to burn to DVD, besides having all the standard editing features. You will find many good reviews about this intuitive free video editing tools. So, if you're beginner, this free tool is recommended for you.
✔️

Pro:

Length: No limit
No Watermark, No Ads
4K UHD support
Drag & drop, 3D & 360° Editing, Caption Overlay, Video Stabilization, Easy narration, Built-in Sound effects, Color control
Simple & Easy to understand Interface
Online support: Website Tutorials

❌

Con:

Free version only for personal use and non commercial!
In other words, you must go for paid version for business purpose

For:    
---
9.  ActivePresenter 7
The developer, Atomi System, claimed that ActivePresenter offers all in one video tool. For instance, it have the tools needed from built-in screen recorder, annotate, edit screen cast videos and create interactive eLearning contents in HTML5. So you get the idea how this free editor may suits your editing requirement. It has the ability to edit almost any video input files and have all basic & advance editing video packages.
✔️

Pro:

Length: No limit
No Watermark, No Ads
4K UHD support
Chroma key for Green Screen, Blur effect, Picture in picture, Text-to-speech
Online support: User community (forum) & tutorials

❌

Con:

Watermark when export to other formats
Video editing is too basic, made for learning video or tutorial making

For:    
10.  FlexClip
A free web based video editing tool, FlexClip is another easily drag & drop video editor. After trying its basic features, we can say that FlexClip is a flexible and smart video creating tool. User friendly interface and it is a service that challenges how far video can be edited online. Most users prefer online image editing just like Canva, Pixlr, so the demand for online video editing tool will continue to increase as well. FlexClip is a recommended video editing tool that you can access anytime, anywhere, on any device and it will completes your content creations requirement.. find it out yourself !
✔️

Pro:

Online (web based) – No high-spec PC or download software needed

Easy to use, drag & drop interface

The web browser works smoothly even when handling heavy videos

Free version available (also reasonable price for Paid versions)

Up to date functions & variety of features available

Fast video encoding

Abundant video / image / music materials

❌

Con:

Export videos takes time
Few illustration based templates
You need to be connected online to use it

For:    
---
Video Editor For Windows  
11.  Windows Movie Maker
Windows Movie Maker, a very familiar video editing software among Windows users since it was introduced with Windows XP integration. This free video editor was pre-installed in the Windows operating system until 2017, which is, Windows 8 as the last known OS version. Then it was discontinued by Microsoft. The OS company decided to replace it with the new app called Windows Photo & Movie Editor in Windows 10. However, for some of you who prefer the Windows Movie Maker instead of the new one, you can still download it from third party provider below.
Video Editor For Apple OS  
12.  iMovie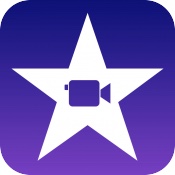 A well known free video editor for iOS platform – iMovie let you use it on your Mac PC, iPad, iPhone or you can sync among all your iOS gadgets. iMovie is one of the featured app in Pixpa's top video editing apps. So lets start your creativity with this one of the best free app and an editor's choice app by Apple.
.
We would also like to add the famous, an easy to use Wondershare Filmora free video editor in the list above. But it does not meet our 'no watermarked' requirement, as we mentioned earlier. Unless you don't mind to have your video output to have watermarked by Filmora. Besides that, it's an intuitive free video editing software with user & beginner friendly and a lot of ready made effects.
In conclusion, there are actually many more free video editors you can find out there. But as we said earlier, we list down some of the best in the class of free to use, no limitation, no watermarked, acceptable editing features and as well as good export quality. Moreover, the most important thing, every user can get the jobs done, satisfactory.
Anyway, we feel the need to share an another category, the free online video editor. These are apps that you don't even need to install on your system but, use it online instead. Maybe we will cover one by one in our next post, hopefully :)
Free Online Video Editor
• MovieMaker – moviemakeronline.com
• Video Toolbox – videotoolbox.com
• Clipchamp – clipchamp.com/en/video-editor
• WeVideo – wevideo.com
• Online Video Cutter – online-video-cutter.com
Do we missed something better? Please share with us in the comment box below.