As 2014 approaching its end, we would like to share some of selected freebies recently released and have been around on the internet, from mobile UI vector files to Adobe Photoshop, Illustrator & InDesign tutorial ebooks free download.
iOS 8 Vector UI Kit
iOS 8 is the eighth major release of the iOS mobile operating system, the latest release (so far) by Apple Inc. which was used in their latest iPhone 6 series. And here we share the free iOS 8 Vector UI kits for iPhones and iPads, if you're looking for these for your UI, App or design works. The file is in Adobe Illustrator format (support Ai CC and newer), just make sure to you have the fonts.
Format: Ai in zip
Font used: Helvetica Neue series (Ultra Light, Light, Thin, Medium, Bold) & DIN Alternative
Release date: 17 Sept 2014
via Mercury
…
Android 5 UI Kits
Official Google Design
Android latest release is Android 5.0 named Lollipop or Android L, and Google was released their official material design elements that they separate it in 2 categories. First one they call it Sticker Sheets and second one are the System Icons. If your're serious Android app's developer or UI designer, you gonna have these:
1.  Component Sticker Sheets
The Sticker Sheets include all the components that make up the Android operating system layouts, including light and dark symbols for status bars, app bars, bottom toolbars, cards, dropdown menus, search field, dividers, side navs, dialogs, floating action buttons, etc. The files are quite big, and there are 3 formats available:
Format:
PSD (237.74 MB)
Ai (189.09 MB)
Sketch (6.67 MB)
2.  System Icons
And this is the system icon kits, approx. 750 icons in SVG (vector) format to complete the components above.
Format in zip:
via Google Design
Illustrator Android Material Interface Kit (3rd party)
If you just need the basic interface elements and layouts, some screens adapted for Material Design and some advanced elements from Android UI Design Kit for Photoshop 4.4 (the Nexus 5 version Kitkat 4.4), download this smaller file size in Ai format – Illustrator Android Material Interface Kit by an Android, iOS, WP UX/UI designer:
Format & files: Ai, PNG, Fonts, Coloring themes
Realease date: 20 July 2014
via Jasa Z
…
Free Photoshop CC Tutorial eBook
I still remember the first version of Photoshop I used is Photoshop 4.0 some time in 1990's on Win 95 (if I'm not mistaken), after my transition from manual drawing to digital (including Autodesk AutoCAD R13). Since then I see the demand in Photoshop knowledge specifically, is getting increase till today. And here, I believe many beginners are looking for fast Photoshop skills, besides streaming via youtube, an ebook will be a great offline tutorials and fast reference for user. This is a free crash course of Adobe Photoshop CC tutorial by Designzzz and they claim beginners can learn Photoshop tutorial in just 30 minutes.. ok, that's damn fast for a newbie ;)
Format: PDF (eBook)
Pages: 61
Size: 12 MB
via Designzzz
…
Adobe Design Basic Book
Want some more..? How about this 3 in 1 Adobe Design eBooks, which includes not just Photoshop, also Illustrator and InDesign too.. sounds great..? And this is from Adobe Education Exchange, where registered users sharing their educational files and resources.. and its free, just sign in to grab. Thanks to Thomas Payne.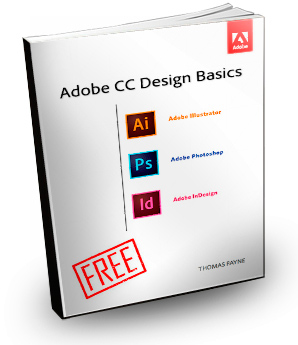 Adobe Design Basic CC
Release: 6 Feb 2014
Format: PDF (eBook)
Pages: 202
Size: 4.31 MB
Note:
If your browser alerts you with a Security warning, or Certificate issue, or Privacy error, just choose proceed to edex.adobe.com i don't know why firefox & chrome alerts me with this (Adobe Education Exchange) site.

After you've sign in and downloaded the file, in some cases (i.e you use firefox to download it), the file downloaded 'without extension' (unknown file), so just rename the file, any name with extension 

.pdf

 (dot PDF) at the end of the name, and the file will be back to PDF ebook format.
If you don't have the latest Adobe CC apps and wanted the previous version of tutorial ebooks for your older Adobe CS6 or CS5 or CS4, you can download the previous release of Adobe Design Suite Basics CS5-CS6 version that suitable for CS6 to CS4.
Adobe Design Basic CS5 – CS6
Release: 1 Oct 2012
Format: PDF (eBook)
Pages: 194
Size: 4.71 MB
Hope these sharing may benefits some of us. And I personally (hopefully, if God will), will release an Illustrator CC eBook for beginners, targeted for easy to use and understand for beginners.. perhaps in local language, Bahasa (and english too).. please pray for me to make it happen ☺